Posted on October 13, 2020 by Susan Lambreth
A growing number of firms have more than 20 Legal Project Managers who are imbedded like internal consultants, helping matter teams improve their communication, performance metrics, client satisfaction, and more. These firms include Allen & Overy, Baker & McKenzie, Clifford Chance, Hogan Lovells, Norton Rose Fulbright, Ropes & Gray, and WilmerHale. This group of progressive firms is joined by many other firms across the globe that have teams of 10 or more LPMs in place.
Posted on September 22, 2020 by Susan Lambreth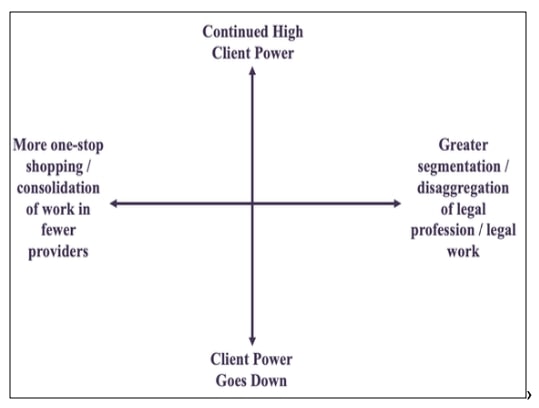 In Part 1 of this series, we discussed how practice groups must rethink their strategy to position themselves in the emerging post-pandemic market and formulate quarter-by-quarter implementation strategies that continue their Group's forward momentum. In Part 2, we focused on how to develop compelling priorities for your practice group. In addition to short-term, quarter-by-quarter plans, you also need a long-term strategy. For this, we'll take a look at using scenario planning.
Scenario planning has been used since the 1950s when Herman Kahn of the RAND Corporation employed it with the US military. But Royal Dutch Shell is credited with pioneering this strategic decision-making methodology in business, which prepared them for the energy crisis of the 1970s.
Posted on July 7, 2020 by Susan Lambreth
As the pace of change in the legal industry (and indeed the world) continues to accelerate, the next few years present the perfect opportunity to consider new and different approaches to traditional business development activities. In part 2 of this series, LawVision consultant Susan Lambreth provides some concrete suggestions about ways that practice groups can adapt their BD strategies to better fit the times.
Posted on June 10, 2020 by Susan Lambreth
In today's volatile and uncertain market, practice groups are prudent to focus on quarterly goals and targets instead of the longer-term horizon. Why the short-range emphasis? The world is changing too rapidly for annual or longer goals to be either appropriate or motivational. Because even the most astute prognosticators admit that they really do not know how the market for legal services will look in a year.
Posted on April 29, 2020 by Susan Lambreth
As law firms have implemented their work-from-home (WFH) efforts, three segments of the legal professional groups have emerged. For brevity, we've called them: The Taxed, The Redeployables, and The Instructables. Each segment presents a unique challenge, requiring a customized approach that keeps the workforce feeling engaged and supported. A one-size-fits-all approach to these segments could not only damage morale, it could slow your recovery.