Posted on June 15, 2021 by Susan Lambreth
Can your practice group have a direction without goals? Not likely. But not all goals are created equal and good performance requires that we start out with clear direction. This means SMART goals. The problem is that it's not easy to get a group of lawyers to develop and agree to SMART goals. Yet, without them, however, most practice groups don't accomplish a lot.
Posted on May 11, 2021 by Susan Lambreth
A discussion with Amanda Chaboryk, the Disputes and LItigaiton Data Lead at Norton Rose Fulbright, about the uses of big data and analytics in litigation today.
Posted on April 6, 2021 by Susan Lambreth
To implement your practice group vision, you need a good plan. In Part 1 of this three-part series, we proposed an approach to help practice groups implement sound practice plans. The components included management feedback, partner participation, and a rigorous market assessment. If you missed Part 1, you can read it here. In Part 2, we'll cover two more requirements for the successful implementation of a practice plan. They include:
Develop a true business plan, not just a marketing plan.
Make your goals SMART.
Posted on March 23, 2021 by Susan Lambreth
Most practice groups have a plan, if for no other reason than that they are used to budget scarce resources – marketing dollars or staff time, professional development expenses, lateral hire compensation, recruiters' fees, etc. The problem is that practice group plans, too frequently, simply are not executed. In fact, a mediocre plan implemented is arguably better than the best plan gathering dust on a credenza or on your intranet.
Posted on February 2, 2021 by Susan Lambreth
In medium to large firms, it is typical to have 10 or more practice group leaders. Yet, in many firms, leadership may feel that there are not enough capable partners who are willing to perform the role effectively. Does your firm have the people you need?
To fill your firm's leadership positions and to enhance your leadership pool for the future, it's important to first determine the skills and characteristics needed to be effective as a practice group leader.
Posted on November 30, 2020 by Susan Lambreth
In the corporate world, managers and leaders receive dozens of hours of training each year to prepare them for their roles and responsibilities. In law firms, too many in management positions receive either no formal training or training that is infrequent or insufficient and perhaps both. Ongoing leadership development is a critical part of grooming your firm's practice group leaders for success.
Posted on November 11, 2020 by Susan Lambreth
"Are you leading your practice group effectively?".
Practice group and department leaders play increasingly important roles in the management of the most successful law firms. They are expected to perform at very high levels in order to meet the demands of their role and to help their groups achieve the desired goals set by firm management. For managing partners and others in firm leadership, the challenge is how to maximize the potential of the group by providing the necessary guidance, support, tools and other resources that will position them for success. Susan Lambreth of LawVision provides some practical advice.
Posted on October 13, 2020 by Susan Lambreth
A growing number of firms have more than 20 Legal Project Managers who are imbedded like internal consultants, helping matter teams improve their communication, performance metrics, client satisfaction, and more. These firms include Allen & Overy, Baker & McKenzie, Clifford Chance, Hogan Lovells, Norton Rose Fulbright, Ropes & Gray, and WilmerHale. This group of progressive firms is joined by many other firms across the globe that have teams of 10 or more LPMs in place.
Posted on September 22, 2020 by Susan Lambreth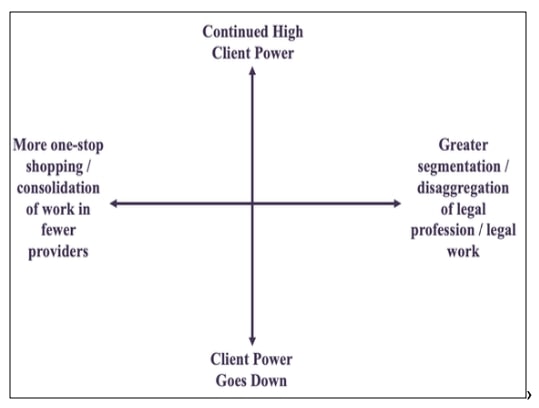 In Part 1 of this series, we discussed how practice groups must rethink their strategy to position themselves in the emerging post-pandemic market and formulate quarter-by-quarter implementation strategies that continue their Group's forward momentum. In Part 2, we focused on how to develop compelling priorities for your practice group. In addition to short-term, quarter-by-quarter plans, you also need a long-term strategy. For this, we'll take a look at using scenario planning.
Scenario planning has been used since the 1950s when Herman Kahn of the RAND Corporation employed it with the US military. But Royal Dutch Shell is credited with pioneering this strategic decision-making methodology in business, which prepared them for the energy crisis of the 1970s.
Posted on July 7, 2020 by Susan Lambreth
As the pace of change in the legal industry (and indeed the world) continues to accelerate, the next few years present the perfect opportunity to consider new and different approaches to traditional business development activities. In part 2 of this series, LawVision consultant Susan Lambreth provides some concrete suggestions about ways that practice groups can adapt their BD strategies to better fit the times.